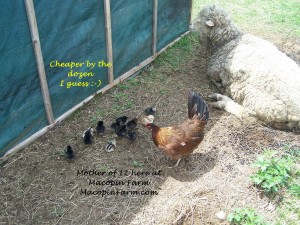 Don't make a wrong turn and end up at the wrong farm if you want REAL FREE RANGE chicken eggs make sure you get to Macopin Farm which is at 610 Macopin Road in West Milford, NJ.  If you are coming up from Germantown Road make sure to make a RIGHT HAND TURN onto Macopin and proceed down Macopin Road toward Bloomingdale if you want to get to Macopin Farm since there is a sign for another farm pointing you in the opposite direction :-).
Boy the hens are a laying so we have so many delicious farm fresh free range eggs for eating available here at Macopin Farm where all of our birds are pets!  If you want a lot of eggs contact me before coming so I can have them ready in case I have to go out.
One of my hens was hiding on eggs somewhere out in the pasture and now she has 12 chicks!